Le nouveau site du volontariat international est enfin prêt !!! cliquez ici pour y acceder
They participated in a work camp ...
Edité le 2012-08-16 16:37:38 by Céline
Paloma joined an eco-tourism project in Costa Rica :
I'm belgian and I've experienced twice volunteerism (short term) and I have to say that was each time a great experience while each one was very different.
First was when I was 19 and I went to Estonia (in Tallin) for 2 weeks whith a friend of mine. We were a lot of volunteers from many different countries and in quite bad conditions of living (everybody was sleeping onder the roof without electricity and without any kitchen to cook something and we had to find a way to cook sometimes something). The work was not really what we expected or was written on the paper project... but anyway, what we'll remember is that it was a great experience, a great cultural exchange (Isn't that in fact volunteerism?!) But in reality we finished cleaning the presidencial garden! The question raised... what is the original purpose of volunteerism? Developpement, help for people whithout tools, without money to employ really qualified people, am I wrong? Then, everybody saied "ok we feel good, we had a great time, we met each other!". Of course, the main purpose isn't the same for each volunteer. For many, it's an easy and not too expensive way to travel and do tourism, and others are more "ethic convinced"... Another point came into my mind: if we met lots nationalities we stayed most of our time togheter, as an international group, and almost didn't meet local people...
Eight years passed without renewing the experience. Why? I can hardly say. But the feeling and the need to do something of my life, helping with my little tools waked up again... I began to involve myself as member of an Amnesty International local group or helping at the crisis center for Haiti and then Japan... but still it was not enough though. So I decided to ask two weeks holidays to my boss and do again a volunteer project. But this time much more closed of the native people, so I wanted a country where I'd know the language. I decided to go to Costa Rica, alone this time, and no more in a city but in a village. I arrived in a small Lodge lost in the rain forest, far from the first village, between two volcanos, nearby the Nicaragua's border. And what a surprise when people told me I was the only volunteer. Ok, it would be new and maybe better and it definitely was! I was introduced into the deep local lifestyle. Beside the fact I had no signal for my mobile phone, the first day, I was welcomed by a scorpion while I was having a shower and I couldn't fall asleep hearing all the wildlife awake outside... (I'm a city girl, not used to wildlife... ) Beside that I discover the marvelous world of nature, at the same time so dangerous and so fascinating! I started eating, talking, working like all local people. I forgot my camera, internet and I began to share their life, their project, their problems and I cannot say it wasn't great experience, even for two weeks !
And now I'm trying to find the way to go back and see what I could offer with my skills and work experience. But again, the ecoturism project of these local farmer families (attempting to reduce their dependance on agriculture by stoping deforestation because they need space) was nice and need support but now it seemed nearly well organised and sometimes you can feel just like free workers. The feeling that they're used to call volunteers to help them in their dailywork so they don't have to pay local people is quite unconfortable.
What I want to say trough all this is that it's important to open the relexion on what is volunteerism and how it could be organised. Of course, volunteerism is a great thing where both sides are usualy winners, one because he gets off his confort life and confront to reality of the world, exchange other kinds of lifestyle, cultures, languages, values (it opens its mind). On the other hand, local people doesn't feel alone and gets help to its projects. But sometimes, it's not really anymore a developping project but maintenance projet (for who are we working? do they really need free help?). Sometimes, it's not a working project but a new kind of holiday time (who involves in projects? what are their purpose? do they really give a substantial help?). Volunteership has to think in which way it goes because now we have so many signification for volunteerism. Also, you have to pay so much to different associations involved (first fee to the country association, then to the foreign association and at last to the local association which with in reality you'll work) but it's still called volunteerism and if you don't have a lot of money (or your parents doesn't pay for it) you won't be able to do a citizen act, volunteerism. That's the dangerous part: volunteer become a well profit good, a real business loosing it's first purpose, helping people who has no tools in developping projects. Well, I think we should clarify these few aspects. Because volunteerism is a great action which contribute for West countries to keep in touch with the rest of the world, see the reality of the world apart of what medias show. Volunteer should has to be seen like an open space for exchange, exchange in its large meaning which includes many different things: language, culture, religion, politic opinion, lifestyle, work. Another point to say, and the last, is volunteerism should also not only focuse on abroad (exotic destinations) but this citizen act begins also in our own country!
Well, I think I was really long and maybe you didn't read untill here but I wanted to share my point of view.
-------------------------------
Last March, Paco decided to leave for an international work camp. Wishing to make himself useful, he assisted to a few teachers in a school Senegal for a month. Through a short interview, he agreed to testify to his enriched experience.

How does the idea about participating in an international work camp come?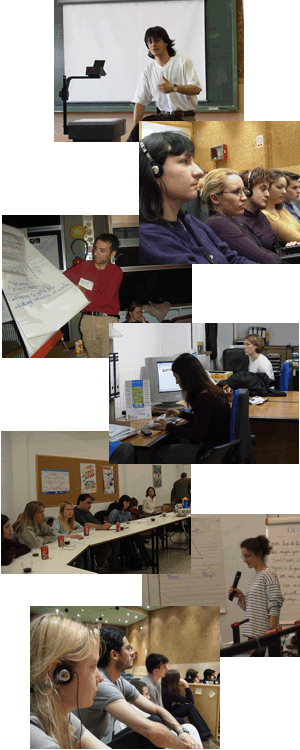 I was unemployed before I left and it was time for me to participate in a project in order to play in this increasingly individualistic society that shocked me little by little every day. I felt a deep need to do it.
How did you live your first days with the other members who participate in the project?
Firstly, I quickly realized that we should not criticize the organization of the school. It was obviously badly viewed to "break", in some extents, a project for which a portion of the local population fought and are still fighting for years. It was better to bring a new idea to the project than to criticize.
Then, the first days at school are often difficult for the volunteers because children see new European faces every month and see them leaving a few weeks later. Suddenly, they were rather reluctant to me when I arrived because they gave me somehow considered a substitute who had taken the place of a volunteer that they liked. Fortunately, they then accepted me among their people.

Have you experienced a strong culture shock when arriving on site?
No, not really. I was easily adapted to the conditions of living and thinking that, I think, are far more human than the Western mentality. The local culture hit me very quickly; it seemed to enrich me rich and interest me. However, I was shocked by the poverty and shaken by turmoil when arriving at the airport in Dakar. I was then surprised to discover the house where I would have my experiences. The house was so lively and welcoming thanks to many children who lived there. I was however rather reassured, it must be confessed, by discovering that there was internet service there.
What have you learned from your participation in this project?
This experience changed me humanely. I'm more concerned with poverty and trying to act daily for those who need it most, particularly when telling about poverty with my surroundings and trying to see what we could do for them.
This experience was more rewarding for me than those I helped, I am sure. Apart from having discovered various possibilities for actions, this project made me grow in my thinking.

The image that you imagine about a work camp before you left was it representative of reality?

Overall, yes. I imagined it as a challenge that must be won as a competition. More I helped, more satisfied I was. I feel helpful after being unemployed for five months.

Would you be willing to spend again the experience?
Yes. I intend to return next year as part of my future studies as an intern.
-------------------------------
Eric, meanwhile, visited Mexico last April. Being motivated by the idea of lending a hand to families with low income, he worked on building their future homes with other volunteers from our local partner Nataté.
How do you get the idea of participating in a work camp?

For long time, I had desired to attempt such an experience, preferably in a quite different culture from mine. Latin America also has interested me for long time.

How did you experience your first days in Mexico?
My first days in Mexico were a bit complicated. I did not speak Spanish (I actually started my stay with language classes) and I had to find means of transportation, food and house. However, everything went pretty well.Listen
The image that you imagined about a work camp before you left was it representative of reality?
I do not have specific ideas, I expected all. It's a good thing because one project is not like the others and exchanges with other volunteers revealed the wide variety of existing projects and situations in which you can discover yourself.
Have you experienced a strong culture shock when arriving on site?
I feel as having actually experienced many cultural shocks. Contact with "classic" Mexico already represents a sharp contrast with our culture and contact with indigenous communities is still very different. Moreover, the "world" for volunteers has its own particularities and we came across, in addition, sometimes very atypical personalities. All this is very rich, even (and especially) if you sometimes have to use your best adaptation skills.
What are the lessons and / practice you've taken from your participation in this project?
The main lesson, in my opinion, is to travel light, not only in terms of equipment, but also in terms of prejudices, expectations or priority. Everything is much easier to live: unusual situations, different cultures ...

Would you be willing to have again this experience?
Yes, certainly.
One particular anecdote?
For different reasons, we came back in town for the weekend. Conversation between volunteers of various projects:
- Yes, the sanitary conditions are a bit limited over there.
- Ah, you do not have hot water?
- Euh, there is no water...
- But we still decided to buy a second bucket to avoid having to wash your face with water for washing feet ...
- ...

If you too, you went to a work camp with the International Voluntary Service and want to share your experience, please let us know !
Answer the questions that Paco and Eric responded and send us your answers to [email protected]!
Tags: international experience,non-profit volunteer service,low cost volunteer,international workcamp,volunteer,internship abroad