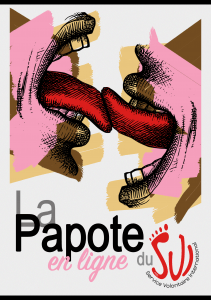 La Papote (French word for the chat), is the name given to conversation tables organised by the SVI. They are free of charges and open to everyone, there is no need to be a volunteer to participate!  The main goal is to promote intercultural exchange through learning and language practice.
For the moment, we organise conversation tables in English and Spanish. But we want to add more languages in the future, and it is possible to help us in this project. And why not using the opportunity to find a language partner?
Currently, la Papote takes place ONLINE every Tuesday at 06:00 PM! It takes place on Zoom in groups of max 12 people, with members of the SVI as moderators. We will discuss various topics including unusual food, intergenerational differences, festivities from all around the globe, etc. in the form of quizz, games, and free conversations… Do not hesitate to share your own ideas!
How to take part in our language conversation tables?
To sign up and access our online conversation tables, enter your name and email address in the form below and you can participate in the conversation tables for free! You don't have to be an SVI member to participate. So, what do you say? Want to learn languages online for free?
We look forward to meeting you! 🙂
Register for Conversation Tables