Every year, many international volunteers take part in local short-term projects through our association. These projects, also called workcamps, mainly take place during summer (from April to September) and are generally great fun since the volunteers work on festivals ! 
Our workcamps are open to everyone,
your motivation is the only selection criterion !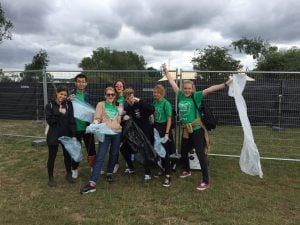 Wanna volunteer on one of our workcamps?
You just need to find a sending organization in your home country !
–> Let's do this ! <–
Workcamps consist in groups of young people from different backgrounds, who do not know each other and wish to meet new people, to live together for several weeks and to carry out a solidarity project. They generally last from one to two weeks and intend to implement projects leading to tangible results on the social, educational (NFE), cultural, artistic or environmental framework. The workcamps coordinated by SVI are mainly volunteer work on summer festivals.
The term "international workcamp" or "youth workcamp" is not a synonymous for "reconstruction" or "management" !
Volunteers are working among groups going from 5 to 10 people, 
Volunteers work at least 6 hours per day, and can enjoy the surroudings or the festival during their free time,
Volunteers are supervised by a team-leader who is also a volunteer,
In return for their work, volunteers are housed and provided for during their stay (but transportation fees are to be paid by the volunteer).
Taking part to a workcamp implies a community life that requires participation, sense of responsibilities, desire to live, work and party together!
The aim of joining a group of international volunteers is primarily to socialize and collaborate on a project. It is also an opportunity to discover other cultures, languages, food and customs.
During their free time, the volunteers have the opportunity to take part to multiples activities with local volunteers and discover the region. Contacts with the local population are often very rewarding and allow the volunteers to be integrated to the community during a few weeks. A workcamp is a different way to travel and to discover a country and its people. It is far more authentic and human than simple tourism.
A workcamp is a unique experience of learning and sharing in an international spirit and personal commitment !
All our worcamps are free of charge, on condition that the volunteer finds a sending organization in his home country. If you don't have a sending organization, please feel free to contact us and we will guide you to one of our partner organization. Please note that some hosting organizations may ask for participation fees that pay for your accommodation and food during the project.
Volunteering is a self-funding project, that is to say that the volunteer has to pay for things linked to the preparation of the project like :
The transportation to come to the project
The potential visa fees
The potential participation fees for the hosting organization
Sometimes, volunteers also have to pay for a part of their food (for example, there is only one meal provided by day in the Dour Festival)