The Service Volontaire International (SVI) is a Belgian-French-Vietnamese pluralist, apolitical, non-profit organisation with no religious affiliation which was founded by the volunteers and for the volunteers. 
We aim to encourage the youth to be active in the society they live in through our local and international activities. We help them becoming citizens of the world who are active, critical and responsible as well as ethically and socially aware.
Being a volunteer does not only mean being involved in volunteering projects abroad, it also consists in contributing in a sustainable way to the development of society.
International volunteering is not an end in itself but it is definitely a lever for non-formal education which enables us to get to know ourselves as well as others. It is a way to learn citizenship that should enable the volunteers to keep being involved abroad or in their home countries after their projects end.
Volunteering is a driving force for the associative sector, one of the pillars of democracy which favors social diversity, life in a community as well as human development. One of our objectives is to make sure that our projects are accessible to as many young people as possible regardless of their financial resources, especially through European Voluntary Service (EVS).
We endeavor to defend a non-commercial vision of volunteer work based on an altruistic action, accessible to everybody and that fills the gap between the northern and southern countries organisations.
The SVI participates actively in international exchanges in many countries around the world. Our mission consists in preparing, sending abroad and welcoming foreign volunteers within the framework of international work camps organized by local non-profit organisations.
0
Number of volunteers we sent abroad and welcomed in 2016
By sending abroad and welcoming international volunteers, we hope to lend our support to local organisations without replacing professionals who are already working in these projects. We aim to lend our support to existing charity projects and to encourage solidarity initiatives worldwide.
0
Number of projects available in 2016
In 2016, we sent abroad about 900 French-speaking young people so they could take part in volunteering projects and we welcomed to Belgium and France about 50 international volunteers. As we are a youth organisation, the vast majority of the volunteers we assist throughout the whole duration of their projects are between 16 and 30 years old but there is no age limit to go volunteering abroad.
0
Number of countries in which you can get involved in a project
These volunteers get involved together in civic and socially useful activities by joining a voluntary workcamp (for 2 weeks) or by joining an ongoing project (for a minimum duration of a month). These collective projects are organised by local non-profit organisations and bring together young people from different countries and social backgrounds.
In order to set up these projects, the SVI cooperates with more than 160 non-profit organisations in Europe and worldwide as equals. The receiving organisation's mission consists in assisting the volunteer right from his arrival in its country whereas the sending organisation, namely the SVI, assists and prepares in advance the projects French-speaking volunteers are going to join abroad.
These partnerships are often assessed on the basis of regular contacts between our coordinators and the members of the local organisations. They are also assessed on an even more important criteria: the feedback our volunteers send us once they come home.
0
Number of partner organizations
The SVI was founded in 2009 by former volunteers and aid workers. The SVI is the Belgian independent branch of the Vietnamese NGO SJ Vietnam which was created in 2004 in Hanoi thanks to the commitment of both United Nations Volunteers and the Belgian Development Cooperation in which Pierre De Hanscutter, co-founder of SJ Vietnam and founder of the SVI, was working.
Since the organisation was founded, we noticed that the number of volunteers we are assisting on our projects worldwide has been constantly increasing. In 2013, our organisation assisted about 500 young people throughout their projects whereas in 2016, 950 youths could benefit from our support.
In 2013, the French branch of our organisation was created by former volunteers.  Its offices are located in Lille and since the beginning of 2016 one employee works there full-time.
This growth enabled the SVI to develop, to diversify its activities and to focus especially on training weekends before the volunteers leave and lobbying in order to defend our vision of international volunteering. Our volunteers keep joining projects worldwide, including in the most fragile countries in terms of democracy in order to continue a determined action without any barriers or pressures.
Our team is made up of volunteers, young people doing their civic service, trainees and unpaid workers who are supervised by 5 permanent employees. Through their implication, each of them helps you benefit from his/her own experience as a volunteer and supports you during the implementation of your project.
If you want to continue your commitment after the end of your volunteering project, you can join our team in order to participate in the development of the organisation and to share your experience with future volunteers.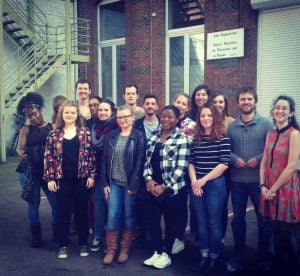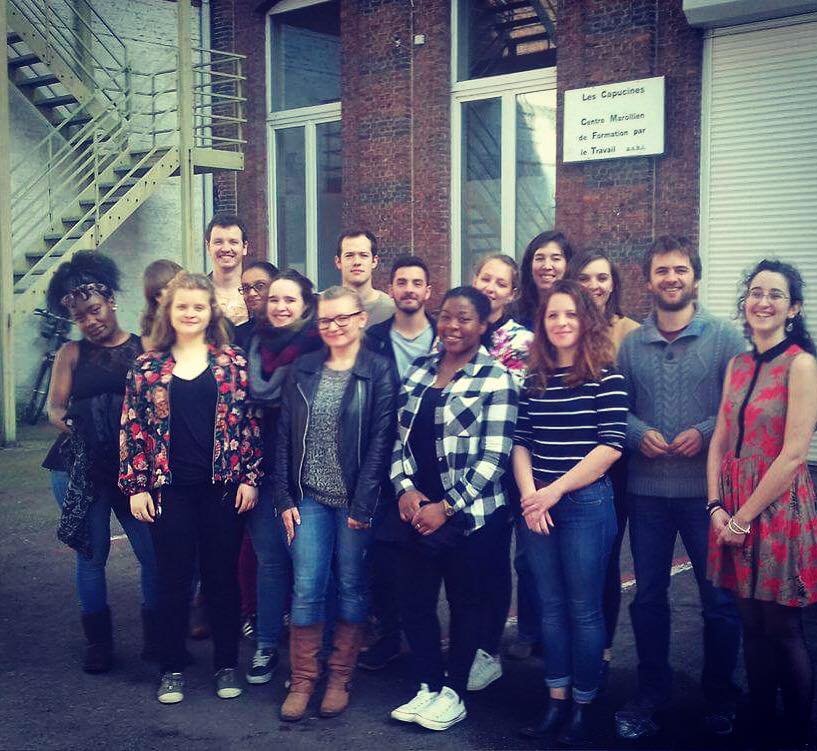 In October 2011, the city of Brussels congratulated the SVI for the quality of its voluntary and civic commitment.
In 2013, the SVI was recognised by the Wallonia-Brussels Federation as "youth-serving association".
Since 2014, the SVI is an executive member of the youth federation Relie-f
In 2015, the International Youth Office recognised the SVI as a sending and coordinating organisation within the framework of the Erasmus + European programme.
By the end of 2016, Isabelle Simonis, the Wallonia-Brussels Federation minister of youth officially recognised the SVI as a Youth organisation.
What is a youth-serving association ?
In French-speaking Belgium, youth organisations are a major pillar of cultural and associative life and also a key partner in youth policy. These are voluntary associations aimed at an audience mainly composed of young people under 30 years of age and who contribute to the development by young people of their personal responsibilities and skills. They aim to make them active, responsible and critical citizens in society. The youth-serving associations are governed by the Belgian decree of 27 March 2009.