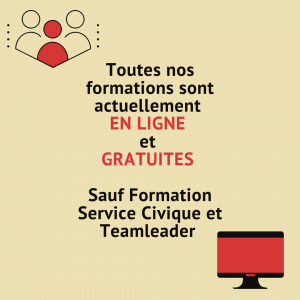 HOW MUCH DOES IT COST?
During the lockdown period, our training modules are availlable online and have had a great success.
You can find the calendar for April here!
Join us!  We have good news! Given the current circumstances, these training modules are free of charge (except for the civic service training programmes), BUT THEY STILL prepare you for a voluntary project once everything has gone back to normal!
For the leadership training you need to be a member beforehand, that is, to pay your membership fee.
There you go. Something useful to do during the lockdown!
To register or for more information, it's easy! Send us an email: [email protected] and our amazing training team will reply to you, pronto!