As the name implies, long-term projects are an opportunity for volunteers to stay in Belgium or France for a longer period of time (from 1 to 6 months) than workcamps. These projects coordinated by SVI offer plenty of different activities, including work with disabled people as part of the Pole Handicap. 
The projects we support are purely non-commercial and are implemented by local organizations such as youth centers, cultural centers, environmental organizations, educational centers, youth movements and even by schools.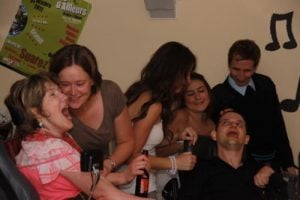 Wanna volunteer on a long-term project ?
You just need to find a sending organization in your home country ! 
–> Let's do this ! <–
Long-term projects are generally available throughout the whole or most of the year. The beginning and ending dates are not fixed, they are chosen according to the volunteer's availabilities and the hosting organization's needs. Thus, we don't talk about groups of volunteers anymore, even if other local or international volunteers will certainly be present on the project. The tasks given to the volunteer are often more complex, and a pro-active involvement is required.
If you want to join a long-term project, you have to be ready to live as part of a community in new and different living conditions than home !
Volunteers are working and living among the hosting organization with the staff, local and international volunteers and the beneficiaries of the association.
Volunteers work at least 6 hours a day, and can enjoy the surroundings and the region during their free time
In return for their work, volunteers are housed and provided for during their stay (but transportation fees are to be paid by the volunteer).
Taking part in a long-term project is a way of discovering a new environment by being emerged in the local culture
The aim of joining a group of international volunteers is primarily to socialize and to collaborate on a project. It is also an opportunity to discover other cultures, languages, food and customs.
During their free time, the volunteers have the possibility of taking part in multiple activities with local volunteers and of discovering the area. Contacts with the local population are often very rewarding and allow the volunteers to get integrated to the community during a few weeks. A solidarity project is a different way of travelling and of discovering a country and its people. It is far more authentic and humane than simple tourism.
A long-term project is a unique experience of learning and sharing in an international spirit and personal commitment !
All our projects are free of charge, on condition that the volunteer finds a sending organization in his home country. If you don't have a sending organization, please feel free to contact us and we will guide you to one of our partner organization. Please note that some hosting organizations may ask for participation fees that pay for your accommodation and food during the project.
Volunteering is a self-funding project, that is to say that the volunteer has to pay for things linked to the preparation of the project like :
The transportation to come to the project
The potential visa fees
The participation fees for the hosting organization
Sometimes, volunteers also have to pay for their food during week-ends