Posted by:

svi_belgique
Post Date:

2017-08-01
---
From Amazonia to Brussels
svi_belgique
A few days ago, we have shared with you José Luis's first impressions. He is a young Mexican EVS volunteer who just arrived in Brussels to work on a project at "L'Arche". Today's article is about Ivonne who is working with José Luis on the same project and who comes from the heart of the Amazonian forest, in Ecuador
My name is Ivonne, I'm 21 and I live in the Amazon region of Ecuador. This is the very first time I have the opportunity to travel far away from my home country and to live such an experience. The journey to come here has been very long: I have spent 14 hours in a plane. However, I can tell you now that it was worth it and I am going to explain why.
I'm part of the European Voluntary Service "Global Recognition" project: GLORE, Erasmus +. This project aims to promote volunteer work as a major part within the framework of personal and professional training, which is too often underestimated. I arrived in Brussels on the 15th of June 2017 and even if the journey was very long and I didn't slept much, I didn't feel tired at all. I couldn't wait to discover the place that would be my home for the next five months. Nevertheless, so much things came to my mind. I asked myself what would my life in Brussels be like and how my volunteer experience at L'Arche would be. Thus, my doubts disappeared on their own.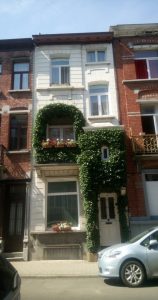 Every day, when I walk down the streets, I can't help admiring the houses. They look so pretty. It seems to me that the inhabitants of this city really like to build their own houses, to think about every detail. The flowers, the paintings, the mirrors, the statues, every single thing catches my eye. I looked at several houses and I noticed that most of them were vertical, had a cellar, a chimney and pretty balconies that seemed to be so warm at tea time or beer time if you prefer to refresh with a nice Belgian beer or just if you want to admire the city. Talking about Belgian beers, I can tell you that they taste really good! The squares, the churches, the parks, the landmarks, the streets, the street lights and the shops have a so old style architecture but this is why they look so beautiful.
Volunteering in l'Arche
I'm currently working as a volunteer in an organisation named L'Arche.  The main activity of this organisation is supporting people with physical and mental disabilities. It is an international organisation operating in 147 communities living in 35 countries spread over 5 continents.
In order to take care of disabled people, they built four "homes" and a "centre of activities". I'm volunteering at the centre which name is "Le grain".
In this centre, disabled people can participate in many activities such as: cooking, sewing, drawing, doing mosaics, being part of clubs, woodworking, gardening, participating in body expression workshops, hiking and swimming. These activities enable them to learn how to do things by themselves and how to be autonomous. As a volunteer, my work consists in participating in the activities along with them. Every activity is supervised by an educator (who is the person in charge) and one or two volunteers.
Volunteer work at the centre "Le grain" goes beyond participating in activities with disabled people: we become their friends. At first, you could assume that I'm here to help people with disabilities or to teach them something but actually I am the one who is learning from them.
Love, patience, respect, commitment and responsibility are the values that guide me. They require a lot of time every day. Nevertheless, I think I'm on the right track.
I have been working at L'Arche for about three weeks and I can tell you that being a volunteer here is one of the best things that ever happened in my life.